COM.Geo 2012 Keynote: On Clusterization of 'Big Data' Streams



Prof. S. Y. Berkovich
Department of Computer Science at George Washington University, Senior Advisor in COM.Geo Advisory Board





Big Data refers to the rising flood of digital data from many different sources. "Immense" and "diverse" are two important characteristics of the "Big Data." Coping with the expanding variety of the Big Data requires a radical change in the philosophy of the organization of information processing. The Big Data approach has to modify the underlying computational model in order to manage the uncertainty in the access to information items in a huge nebulous environment. In this talk, we introduce a novel method for on-the-fly clusterization of amorphous data from diverse sources. It is especially suitable for the Big Data computational model as it materializes the requirement of purposeful selection of information items in unsteady framework of cloud computing and stream processing. Furthermore, the uncertainties in relation to the considered method of clusterization are moderated due to the idea of the bounded rationality, an approach that does not require a complete exact knowledge for sensible decision-making. Read more >>
What's Inside the COM.Geo 2012 Conference Highlights?
COM.Geo 2012 conference highlights are Big Data Computing, GPU Computing, Sensor Computing/Internet of Things (IoT) for Geospatial R&A. What's inside them? What's the relationships between them? What's behind all these 'Computing' technologies? How to integrate them to solve the real geospatial problems?
Let's reveal these at COM.Geo 2012 through our leading industrial, governmental, and academic experts' insightful thoughts and inspiring discussions in their keynote speeches, paper presentations, lightning talks, panel discussions, and workshops or courses.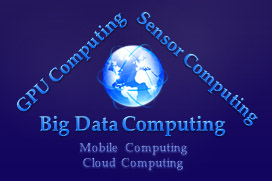 Invite to Join COM.Geo2012 Hot Panels on Big Data Computing
COM.Geo is organizing several interesting panels related to Big Data Computing:

1) Mobile Computing & Big Data Computing
2) Cloud Computing & Big Data Computing
3) GPU/GPGPU Computing & Big Data Computing
4) Sensor Computing / Internet of Things (IoT) & Big Data Computing
5) Big Data Computing for Defense

COM.Geo invites individuals to apply to become panel moderators (organizers) or panelists (members). Applications should be completed online by May 15.
Early Registration Deadline - May 14
The COM.Geo 2012 early registration deadline is May 14th. The fee structure for COM.Geo 2012 makes it even more advantageous to register early this year. Registering early can save you up to $200 off your conference program registration (depending on your registration category).